Why YIUS ?
YIUS is the first institute in Myanmar to provide University Foundation Program which has an Academic Transfer arrangement with Navitas. The courses offered at YIUS are tailored especially for Myanmar students to meet the educational requirements of Institutions and Universities overseas.
Furthermore, having been approved as one of Scottish Qualification Authority's (SQA) few centers in Myanmar, to deliver Advanced Diploma Programs, YIUS is proud to be able to maintain the high standards set out by SQA.
Along with many years of experience, YIUS provides students with a safe, caring and friendly learning environment where students can improve their academic, social and personal skills. Furthermore, students will be taught by high quality academic staff using international level teaching methods and facilities.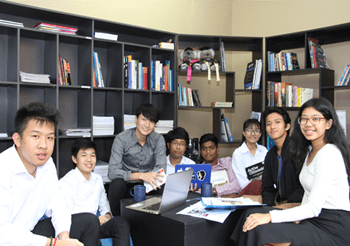 Advanced Diploma
In Business
The NCFE Advanced Certificate and Advanced Diploma in Business are designed to provide a broad understanding of business organizations and the environment in which they operate. The NCFE Advanced Diploma has a strong managerial focus.
November Intake
Monday to Friday (9:00am-4:00pm)
GED Educational Development
GED Test Preparation
The GED program is a higher secondary certificate accepted by nearly all universities in the U.S. and many across the world.


Course Duration
4/6 months
December Intake
Monday to Friday (9:00am-4:00pm)
University Foundation Program
(Business, IT, Engineering, Health Science)
The University Foundation Program is your pathway to university in Australia, as well as UK, USA, Canada, New Zealand, Singapore, Malaysia, Switzerland and Thailand.It is completed in Myanmar and consists of eight pre-university level units.
2023 January Intake
Monday to Friday (8:30am-3:30pm)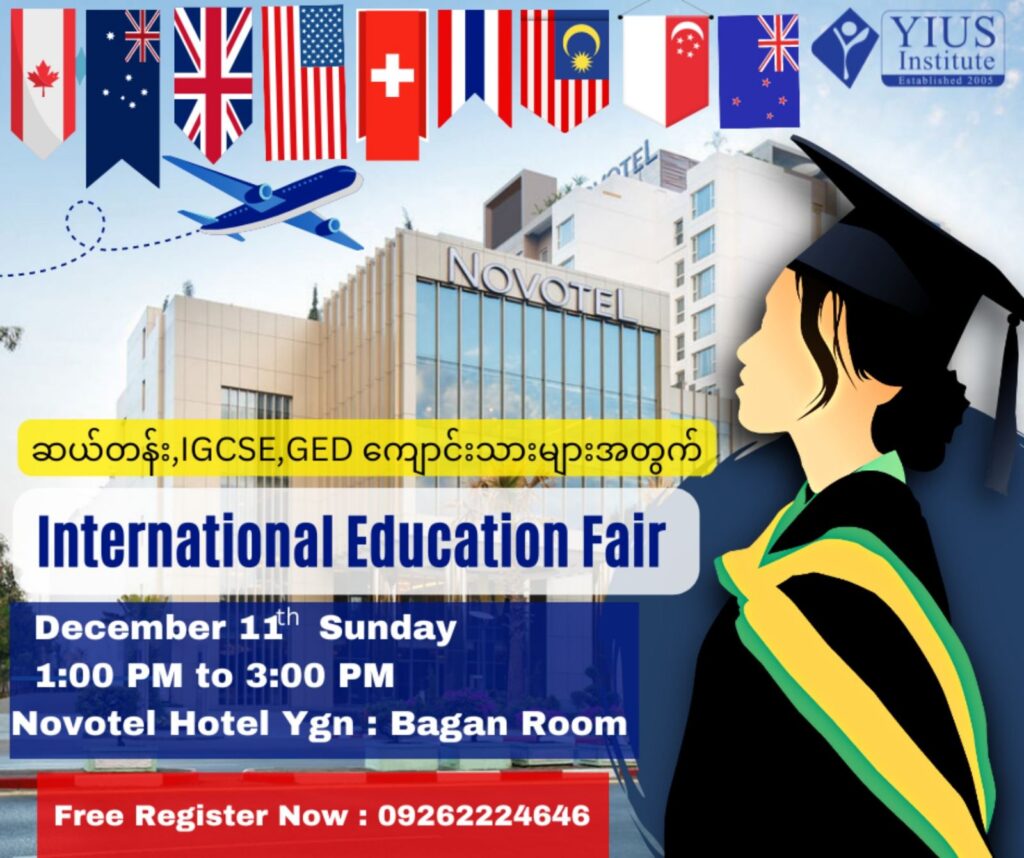 ရန်ကုန်မြို့ ပြည်လမ်းမပေါ်ရှိ Novotel Hotelတွင် ကျင်းပပြုလုပ်မည့်…
🗺️ YIUS' International Education Fair 🔍
သင်၏ လက်ရှိပညာရေးပေါ် မူတည်ပြီး
သင်‌ရွေးချယ်နိုင်သော ပညာရေးအခွင့်အလမ်း ကောင်းများကို သိပါသလား❓
🌏 US,UK, Australia, Canada, Singapore, Thailand, Switzerland, New Zealand အစရှိသော နိုင်ငံများရှိ ကမ္ဘာ့အဆင့်မီ တက္ကသိုလ်ကြီးများမှ ကိုယ်စားလှယ်များ ကိုယ်တိုင် အခမဲ့ တိုက်ရိုက်ပါဝင်ဆွေးနွေးပေးမှာမို့ 👩‍🏫
🔍စရိတ်သက်သာ၊ အချိန်ကုန်သက်သာသော ပညာရေး လမ်းကြောင်းများကို မသိလိုက်ဘဲ ရွေးချယ်မှုအမှားများမရှိစေရန် ယခု Education Fairကို ကြွလှမ်းခဲ့ဖို့အတွက် ဖိတ်ခေါ်အပ်ပါတယ်
🧑‍🏫YIUS' International Education Fair 🤗
Date : 11.12.2022
Time : 1:00 PM to 3:00 PM
Place : Novotel Hotel (Pyay Road)
Registration Link :
https://forms.gle/rzAaFo6aqxxjmBDa6
☝️ဒီ linkလေးကနေ Registerလုပ်လိုက်တော့နော်
Address
Room ( 2,4,8) Building 7.MICT Park, Hlaing University Campus, Hlaing Township,, Yangon , Myanmar